Bron: Indymedia
(English below)
In de nacht van 12 November zijn meerdere metrostations in Amsterdam beklad met verf. De tekst las: "Borders Kill" en "Fuck Thales" verwijzend naar het wapenbedrijf Thales die ook de poortjes op de NS- en GVB metro stations maakt en lobbyt voor de verdere militarisering van de Europese grenzen.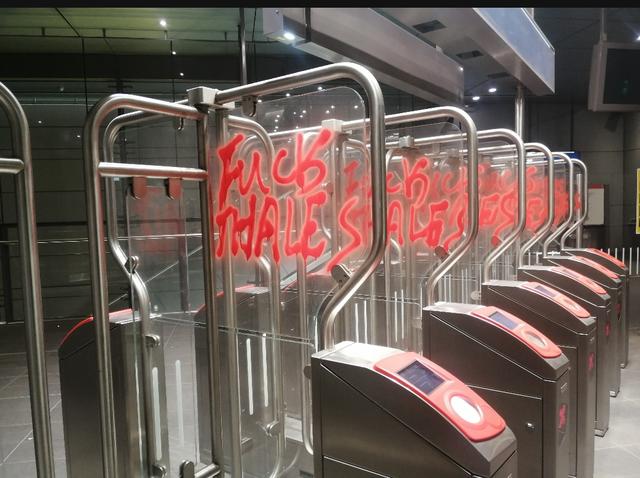 Thales is een Frans wapen- en technologiebedrijf. Thales is de op drie na grootste wapenproducent van Europa en de tiende in de wereld (2016). Thales produceert producten zoals radars, fire control systems, cyber security en biometrics. De algemeene Thales Groep produceert verschillende wapens, zoals onder andere drones, handvuurwapens en gepantserde voertuigen. Thales is ook betrokken bij de productie en het onderhoud van Nucleaire wapens. Het bedrijf verkoopt wapens over de hele wereld, ook aan landen die in conflict met elkaar zijn, autoritaire regimes en mensenrechtenschenders..
Oproep tot Autonome acties
Thales specialiseert zich in het ontnemen van bewegingsvrijheid en het uitoefenen van sociale controle. De barrières die Thales in onze steden bouwt zijn een microkosmos van de barriers die Thales aan de Europese grens bouwt. Ze hebben dezelfde functie: bepalen wie er toegang mag hebben tot bepaalde plekken. Iedereen kan besluiten om actie te ondernemen tegen deze infrastructuur die doodt en buitensluit. Deze architectuur die ons onderdrukt is overal om ons heen. Ga op pad met een paar goede vrienden, creative boosheid en maak kapot wat jou kapot wilt maken.
Fuck all Borders and Barriers.
Cover your Face and Smash the State
Thales barriers vandalized at Metro stations throughout Amsterdam
In the night of 12 November several metro stations throughout Amsterdam were targeted and vandalized with paint. The messages read "Borders Kill" and "Fuck Thales" referring to Thales the arms company that also makes the barriers for the NS and the GVB stations and is lobbying for – and leading the further militarization of EU borders.
Thales is a French arms and technology company. It is the fourth largest arms producer of Europe and the tenth largest in the world (2016). Products include radar, fire control systems, cyber security and bio-metrics. The Thales Group in general produces a broad range of arms, including drones, small arms and armored vehicles. It is also involved in nuclear weapons production and maintenance. The company sells arms all over the world, including to countries in conflict, authoritarian regimes and human rights violators.
Call Out for Autonomous Organizing
Thales specializes in attacking people's freedom of movement and practicing social control. The barriers Thales builds in our cities are a microcosm of those Thales builds at Europe's borders, they serve the same function – to control who gets to have access to certain spaces. Anyone can decide to take action against the infrastructure that kills and excludes. Architecture of control and confinement is everywhere around us. Bring some close friends, some creative anger and destroy what wants to destroy you. Fuck all borders and barriers.
Cover your face and smash the state!