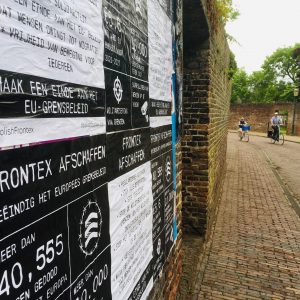 21 June – Yesterday on World Refugee day, people postered cities all over the Netherlands. They did so as part of the international campaign Abolish Frontex. Cities everywhere in the country were postered, from Appelscha to Amsterdam. The places that were postered were: Tilburg, Wageningen, Amsterdam, Nijmegen, Rotterdam, Appelscha, Amersfoort, Utrecht. In Amersfoort, people also protested at de Bernhardkazerne where they put "abolish Frontex" with chalk on the ground.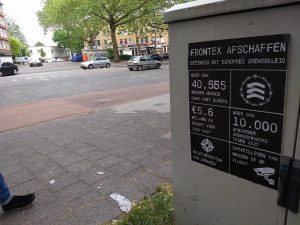 The International Abolish Frontex campaign calls for the abolition of Frontex, the murderous EU border agency that is responsible for thousands of migrant deaths. Frontex, the EU border and coast guard agency, is even more expanding. Its budget for 2021 to 2027 is set on 5.6 billion Euros, and it aims to have 10.000 armed guards at the EU border by 2027. Frontex is hereby creating its own army that is fighting against people on the move.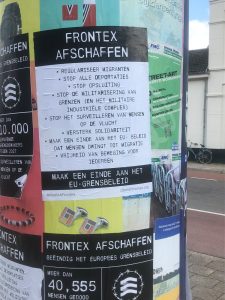 We are calling for the abolition rather than the reform of Frontex. We call for regularizing migrants and an end to all deportations. The murderous EU border policies that are enforced by Frontex have to be stopped. Over the past years, the European border has increasingly been militarized with deadly consequences. This needs to stop. We need freedom of movement for everyone and and an end to Frontex and the EU's border policies.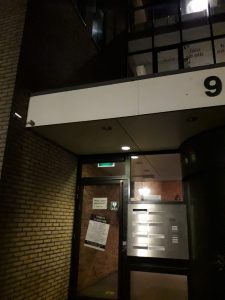 A poster was also spotted at Uni Business Centre in Amsterdam, which is company that has a contract with Frontex to deliver ICT equipment, spare parts and accessories to them. Working with Frontex means also being responsible for the horrible practices that Frontex is carrying out. Companies should not be able to get away with this and should be held accountable.