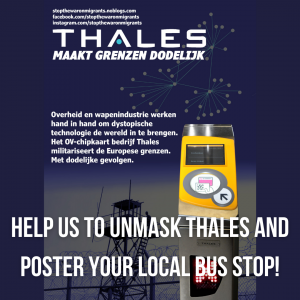 Het lijkt erop dat Thales niet blij was met onze posteractie. De posters die we ophingen bij de bushaltes werden voortijdig verwijderd. Normaal gesproken worden bushalteposters één keer per week vervangen. En de normale vervangingsdag is nog niet aangebroken terwijl alle posters van shitty multinationals nog hangen.
Blijkbaar heeft Thales contact opgenomen met het bedrijf dat verantwoordelijk is voor bushalteposters om ze weg te halen en zo hun vuile praktijken opnieuw te verbergen. Gelukkig hebben we nog steeds het prachtige ontwerp van onze posters ???? We drukken dat ontwerp op A3-posters om ze gemakkelijker te verspreiden.
Wil je je lokale bushalte beposteren en Thales helpen ontmaskeren? Stuur ons een DM of e-mail (stopthewaronmigrants[at]riseup.net)! We sturen je je persoonlijke pakket posters om actie te ondernemen tegen Thales ????????????
Thales is niet ongevaarlijk: het is een bedrijf dat levens vernietigt in de zoektocht naar steeds meer winst. Dit soort bedrijven moet verantwoordelijk worden gehouden voor het bloed aan hun handen en moet worden vernietigd. Vecht tegen Fort Europa en de bedrijven die profiteren, stop de oorlog tegen migranten!
[English]
Action call-out: Uncover Thales' deadly practices!
It seems that Thales was not happy with our poster action. The bus stop posters that we put up got taken down prematurely. Normally, bus stop posters get replaced once a week. And the normal replacement day has not come yet while all the posters of shitty multinationals are still up. Apparently Thales has contacted the company responsible for bus stop posters to take them down to once again hide their dirty practices.
Luckily, we still have the beautiful design of our posters ???? We are printing that design on A3 posters to make them more easy to spread.
Do you want to poster your local bus stop and help uncover Thales? Send us a DM or email (stopthewaronmigrants[at]riseup)! We will send you your personal package of posters to take action against Thales ????????????
Thales is not harmless: it is a company that destroys lives in the search for ever more profits. These kinds of companies need to be held accountable for the blood on their hands and destroyed. Fight Fortress Europe and it profiteers, stop the war on migrants!