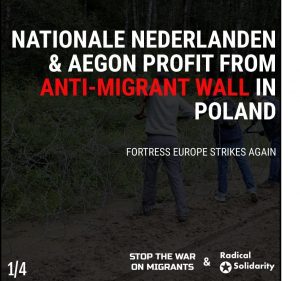 1 februari 2022 – [English below] – Afgelopen week is Polen begonnen met het bouwen van een muur op de grens met Belarus. De muur wordt gebouwd om mensen ervan te weerhouden naar Pools grondgebied (en daarmee de EU) te reizen en asiel aan te vragen. De Europese Unie keek afgelopen maanden toe hoe gewapende soldaten migranten en vluchtelingen mishandelden en blijft dat doen nu Polen is begonnen met het bouwen van een muur. Dit alles speelt zich af midden in de winter: de temperaturen dalen tot onder het nulpunt, wat de levens van migranten alleen maar meer in gevaar brengt. Officiële cijfers geven aan dat er aan deze grens tot op heden tien mensen zijn gestorven, maar activisten en NGO's stellen dat de echte cijfers veel hoger liggen. Degenen die het lukken om Polen te bereiken worden opgesloten in detentiecentra en vaak gedeporteerd naar hun land van herkomst – voornamelijk Irak. De Europese Unie laat keer op keer zien dat ze de beweging van financiële middelen faciliteert, maar dat als het gaat om de beweging van mensen ze wreed en genadeloos is.
De muur wordt gebouwd door Budimex SA en Unibep. Deze Poolse bedrijven krijgen ruim €71 miljoen respectievelijk ruim €43 miljoen voor het gedurende de komende vijf maanden aanleggen van ieder twee delen van de muur, waarvan de totale kosten op €350 miljoen worden geschat. De vijfenhalve meter hoge muur (inclusief een halve meter NATO- of scheermesjesprikkeldraad) moet uiteindelijk de helft van de grens met Belarus beslaan, zo'n 186 kilometer (ongeveer gelijk aan de afstand tussen Amsterdam en Antwerpen).
Budimex is voor ruim de helft in handen van de Spaanse multinational Ferrovial. Ferrovial was eerder, via een andere voormalige dochteronderneming (Broadspectrum), verantwoordelijk voor het runnen van één van de beruchte Australische 'offshore'-detentiecentra, op het eiland Manus. In deze detentiecentra werden alle vluchtelingen die per boot naar Australië kwamen vastgezet onder slechte omstandigheden, met gewelddadige bewaking.
Enkele Nederlandse financiële bedrijven investeren in Budimex en Unibep. Verzekeringsmaatschappij en vermogensbeheerder Nationale Nederlanden heeft 9,22% van de aandelen van Budimex in handen en is daarmee, na Ferrovial, de op één na grootste aandeelhouder. NN Investment Partners Towarzystwo Funduszy Inwestycyjnych, een Pools dochterbedrijf van het Nederlandse NN Investment Partners, eveneens gelieerd aan Nationale Nederlanden, bezit 0,41% van de aandelen. Verzekeraar Aegon heeft via dochter Aegon PTE, dat verantwoordelijk is voor het beheer van één van de grootste Poolse pensioenfondsen, aandelen in zowel Budimex (3,53%) als Unibep (2,10%). Deze bedrijven verdienen hiermee aan het voortdurende leed dat migranten en vluchtelingen wordt aangedaan.
Een volledige lijst van bedrijven en aandeelhouders (voornamelijk uit Polen, Duitsland, Spanje en Nederland) die verdienen aan de bouw van de muur is hier te vinden.
Na de bouw van de stalen constructies door bovengenoemde bedrijven zal de muur ook uitgerust worden met onder meer camera's en bewegingssensoren. De leveranciers hiervan zijn nog niet bekend, maar het ligt voor de hand dat hiervoor bedrijven gecontracteerd gaan worden uit de militaire en security-industrie, die al jaren goed geld verdient aan het militariseren van de Europese grenzen.
Naast het menselijke leed dat deze muur zal veroorzaken, creëert het bouwen van de muur ook een ecologische catastrofe. De muur wordt namelijk gebouwd in een beschermd oerbos, Białowieża Primeval Forest, waardoor beschermde diersoorten en de biodiversiteit in gevaar komt.
De EU houdt bij monde van de Europese Commissie, vol dat het geen grensmuren financiert om zo niet het beeld van een letterlijk 'Fort Europa' op te roepen. Deze houding staat niet alleen onder druk – Polen en diverse andere EU-lidstaten dringen er hard op aan dat de EU wel geld voor muren en hekken beschikbaar stelt – maar is bovendien niet meer dan een hypocriete pose. Ze financiert namelijk wel technologie waarmee muren uitgerust worden, evenals veel ander materieel voor grensbewaking. In november van afgelopen jaar heeft de EU Polen, Letland en Litouwen €200 miljoen extra gegeven voor grensbewaking via het Integrated Border Management Fund. Met dit fonds financiert de EU het versterken van grensbewaking van EU-lidstaten met ongeveer €7.4 miljard in de periode 2021-2027.
Belarus, Polen, Rusland en de Europese Unie spelen allemaal hetzelfde spelletje! Ze gebruiken het leed van migranten en vluchtelingen om politiek te bedrijven. De Europese Unie dicht zichzelf echter hoge morele normen toe, maar de bouw van deze muur – die vluchtelingen en kwetsbare ecosystemen in gevaar brengt – laat nogmaals zien dat dit een farce is.
Onze solidariteit gaat uit naar de aanwezige activisten die vechten voor de rechten van mensen die opzoek zijn naar een beter bestaan. Solidariteit met de migranten die Europa proberen te bereiken. Voor meer informatie over de lokale strijd volg No_Borders_Team op Telegram.
We zullen het normaliseren van dit dodelijke beleid nooit accepteren, de EU en alle andere betrokken politieke en economische actoren hebben bloed aan hun handen. Laten we organiseren en deze waanzin stoppen! Solidarity is our weapon!
NO BORDERS NO NATIONS FUCK FORTRESS EUROPE
Stop The War On Migrants
Radical Solidarity
[English]
Nationale Nederlanden and Aegon profit from anti-migrant wall in Poland
Last week, Poland started the construction of a wall at its border with Belarus. This is to prevent people on the move to enter its territory (and, by corrolary, the EU) and seek asylum. After sending armed soldiers to harass migrants and refugees, Poland, blessed by EU's 'blindness', is now erecting the closure of Fortress Europe. This all comes to life in the height of winter with freezing temperatures further endangering the lives of migrants. So far, official numbers say that 10 people have died at this border, but activists and NGOs assure that the real number must be much higher. For the ones who make it into Poland, they are detained in detention centres and many are repatriated to their home countries – especially to Iraq. This is yet another proof that the EU will always prefer the freedom of movement of capital to the one of people.
The wall is being built by Budimex SA and Unibep. These Polish companies will respectively receive around €71 million and €43 million, both for the construction of two parts of the wall in the coming five months, of which the total costs are estimated at €350 million. The 5.5m-high wall (including 0.5m of razor wire) will eventually cover half of the border between Poland and Belarus, around 186 kilometers (equivalent to the distance between Amsterdam and Antwerp). Over 50 percent of Budimex's shares is owned by the Spanish multinational Ferrovial. This company was, through a former subsidiary (Broadspectrum), responsible for managing one of the notorious Australian 'offshore'-detention centres, on Manus Island. All refugees who tried to reach Australia by boat were held here in inhumane conditions.
Several Dutch financial companies invest in Budimex and Unibep. Indeed, Dutch insurance and asset management company, Nationale Nederlanden, owns 9,21% of Budimex's total shares. It is, after Ferrovial, the second largest shareholder of Budimex. NN Investment Partners Towarzystwo Funduszy Inwestycyjnych, a Polish subsidiary of the Dutch NN Investmet Partners, also affiliated to Nationale Nederlanden, owns 0,41% of the shares. Dutch insurance company, Aegon, through subsidiary Aegon PTE, responsible for managing one of the largest Polish pension funds, owns shares in both Budimex (3,53%) and Unibep (2,10%). These companies, therefore, profit from the criminalisation and securitisation of borders, putting migrant lives at risk.
The complete list of companies and shareholders (mainly from Poland, Germany, Spain and The Netherlands) who profit from building this wall can be found here.
After the earlier mentioned companies will be finished with the construction, the wall will be equipped with camera's and motion sensors. The suppliers of these technologies are not yet known, however, there is a high chance that, for this particular task, companies operating in the military and security industry will be contracted – who for years have been profiting from the militarisation of the European borders.
On top of being a humanitarian catastrophe, this wall is an ecological disaster. It is erected in a strictly protected primary forest, Białowieża Primeval Forest, endagering already fragile species and biodiversity.
The EU is still trying to pretend it does not condone the construction of border walls, scared about tarnashing its already grim image. However, this stance is completely hypocritical as the EU finances the very technology with which the walls are equipped, as well as other crucial material for border security and control. For example, in November last year, the EU supported Poland, Latvia and Lithuania with €200 million extra for border security, through the Integrated Border Management Fund. With this fund, the EU finances the strengthening of border security and control of its member states with an estimated €7.4 billion over the period 2021-2027.
Solidarity goes to the activists on the ground defending the rights of people to move as they please and seek a safe heaven, constantly harassed by the mitilary and political aparatus. Solidarity with migrants coming to Europe and everywhere in the world! For more info follow the No_Borders_Team on Telegram.
We will not accept the normalisation of such a murderous policy, the EU and all the political/economic actors involved have blood on their hands. Let's get organised and stop this now! Solidarity is our weapon!
NO BORDERS NO NATIONS – FUCK FORTRESS EUROPE
Stop The War On Migrants
Radical Solidarity