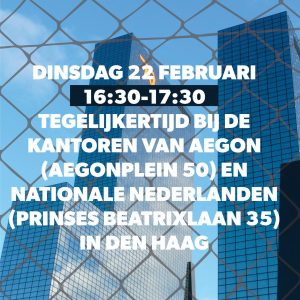 Join the protest against making profits from the construction of the Polish border wall against refugees. Demand that insurance companies Aegon and Nationale Nederlanden divest from construction companies Budimex and Unibep.
Protesteer mee tegen het maken van winst uit de bouw van Poolse grensmuur tegen vluchtelingen. Laat verzekeringsmaatschappijen Aegon en Nationale Nederlanden weten dat ze hun aandelen in de bouwbedrijven Budimex and Unibep moeten afstoten.
[Dutch below]
Earlier this year, Poland started building a wall on the border with Belarus to prevent refugees from seeking refuge in the EU. Initially, the Polish state sent the army to stop refugees, preventing them from entering the EU. Now they have stepped up their efforts by starting to build a 180km wall to further deter migrants. At least ten refugees have now died at the border.
The wall is being built by Budimex SA and Unibep. These Polish companies will receive approximately €71 million and €43 million respectively to build this wall over the next 5 months. Aegon and Nationale Nederlanden invest in these companies. Nationale Nederlanden owns almost 10% of the shares of Budimex and is the second largest shareholder. Aegon has smaller equity interests in both Budimex and Unibep. These companies thus benefit from the militarization of borders and share responsibility for endangering migrant lives.
No one should make a profit from violence against refugees. Join the picket line to inform employees of Aegon and Nationale Nederlanden and demand that both insurance companies divest from the wall builders.
MiGreat – Radical Solidarity – Stop the War on Migrants
Tuesday, February 22 – 4.30 pm – 5.30 pm – simultaneously at the offices of Aegon (Aegonplein 50) and Nationale Nederlanden (Prinses Beatrixlaan 35) in The Hague.
———————————————————————————-
Eerder dit jaar is Polen begonnen met de bouw van een muur aan de grens met Belarus om te voorkomen dat vluchtelingen hun toevlucht zoeken in de EU. Aanvankelijk stuurde de Poolse staat het leger om vluchtelingen tegen te houden, waardoor ze de EU niet konden binnenkomen. Nu hebben ze hun inspanningen opgevoerd door te beginnen met de bouw van een muur van 180km om migranten verder af te schrikken. Inmiddels zijn zeker tien vluchtelingen aan de grens omgekomen.
De muur wordt gebouwd door Budimex SA en Unibep. Deze Poolse bedrijven zullen respectievelijk ongeveer €71 miljoen en € 43 miljoen ontvangen om deze muur in de komende 5 maanden neer te zetten. Aegon en Nationale Nederlanden investeren in deze bedrijven. Nationale Nederlanden bezit bijna 10% van de aandelen van Budimex en is de op een na grootste aandeelhouder. Aegon heeft kleinere aandelenbelangen in zowel Budimex als Unibep. Deze bedrijven profiteren dus van de militarisering van grenzen en zijn medeverantwoordelijk voor het in gevaar brengen van migrantenlevens.
Niemand mag winst maken met geweld tegen vluchtelingen. Sluit je aan bij de picketline om werknemers van Aegon en Nationale Nederlanden te informeren en te eisen dat beide verzekeraars desinvesteren uit de muurbouwers.
MiGreat – Radical Solidarity – Stop the War on Migrants
Dinsdag 22 februari – 16.30-17.30 uur – tegelijkertijd bij de kantoren van Aegon (Aegonplein 50) en Nationale Nederlanden (Prinses Beatrixlaan 35) in Den Haag.