Afgelopen zondagavond hebben we met een groep van ongeveer tien mensen staan picketen bij de schouwburg van Hengelo. Hierbij wat foto's van Jan Kees Helms (facebookpage: Deeez Action Documentary Photography). Voorafgaand werd een persbericht verzonden, daarvan ook hier de tekst. In de Thales' Bloedgeld Foyer werd veel gesproken over de (reden) van de demonstratie, hoorden we achteraf.
Picketline bij Schouwburg Hengelo tegen sponsorrelatie met wapenbedrijf Thales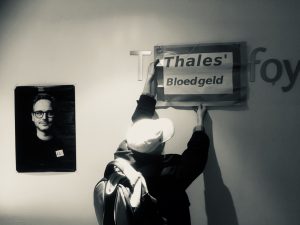 Bij aanvang: hernoeming Thales foyer: Thales' Bloedgeld Foyer.
Komende zondag (30 september, 19 tot 20 uur), zullen activisten van Stop the War on Migrants! en stichting VEDAN voorafgaand aan een concert van Guus Meeuwis met spandoeken en flyers voor de ingang van Schouwburg Hengelo (Beursstraat 44) staan om de schouwburg op te roepen de sponsorrelatie met wapenbedrijf Thales Nederland te beëindigen.
Wapenexporten van Thales dragen bij aan oorlog, repressie en mensenrechtenschendingen, belangrijke oorzaken voor gedwongen migratie. Het bedrijf verdient daarna nog eens aan het leveren van materieel voor grensbewaking en -controle om de vluchtelingen die mede hiervan het resultaat zijn tegen te houden.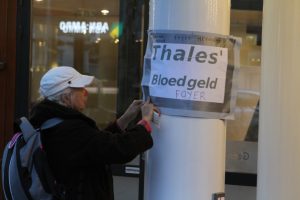 Thales Nederland (vroeger bekend als Holland Signaal) levert onder meer communicatiesystemen voor Saoedische tanks, die ingezet worden in de verwoestende oorlog in Jemen, en radar voor schepen voor de Egyptische marine, betrokken bij de zeeblokkade van Jemen en bij geweld tegen vluchtelingenschepen.
Door EU-lidstaten en derde landen, vaak met hulp van EU-financiering, te voorzien van middelen voor grensbewaking worden deze grenzen steeds verder gemilitariseerd. Hierdoor worden migranten gedwongen om steeds gevaarlijkere routes te nemen, vallen zij steeds vaker in handen van criminele mensensmokkelnetwerken en sterven migranten steeds vaker aan de grenzen van Europa en daarbuiten.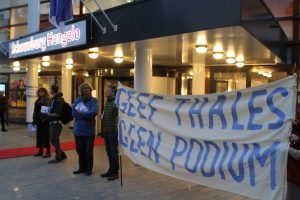 Thales en andere wapenbedrijven voorzien niet enkel in de behoeftes van Fort Europa, maar lobbyen ook actief op nationaal en Europees niveau voor het militariseren van de Europese grenzen en hebben deze manier grote invloed op het Europese migratiebeleid.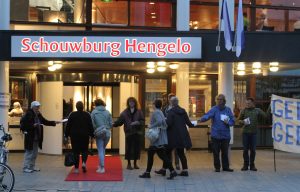 Thales Nederland maakt graag goede sier met het sponsoren van organisaties (van studieverenigingen tot sportclubs), evenementen en instellingen. Voor de schouwburg in Hengelo is Thales een belangrijke sponsor, die zelfs een eigen Thalesfoyer in het gebouw heeft. Volgens Stop the War on Migrants! en stichting VEDAN zou de schouwburg Thales niet moeten helpen bij het opschonen van diens imago door dergelijk sponsorschap.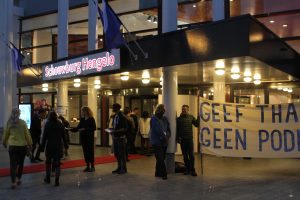 In reactie op een brief van die strekking aan de schouwburg, liet deze weten het huidige sponsorcontract met Thales te respecteren, maar een verlenging na juli 2019 te gaan heroverwegen. Met de picketline van zondag willen Stop the War on Migrants! en stichting VEDAN de schouwburg een extra duwtje geven om tot de enige juiste beslissing te komen: het verbreken van de banden met Thales.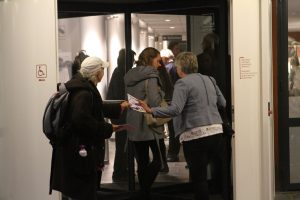 Stop the War on Migrants! is een campagne die dit jaar van start ging en zich richt tegen het Europese migratiebeleid, in het bijzonder wapenbedrijven zoals Thales en Airbus die grof verdienen aan de ellende van vluchtelingen. De groep organiseerde eerder protesten bij de Bedrijvendagen op de TU Delft, waar deze bedrijven prominent aanwezig waren, en bij de jaarvergadering van Airbus in Amsterdam.
Stichting VEDAN (Vredes- en DuurzaamheidsActiviteiten Netwerkstad) is een lokaal initiatief, dat zich inzet voor vrede en duurzaamheid. Het organiseert jaarlijks vele activiteiten op dit gebied, met onder meer een vol programma tijdens de Vredesweek die vorige week plaatsvond, waarbij vooral verhalen van vluchtelingen in beeld en geluid centraal stonden.